Beautifully refined in detail, «Robert le Diable» is a towering masterpiece of Romanticism, passionate indeed, reaching passionately devout and expressive in final wonderment.
The main theme might have seemed tedious or old fashioned to us, it turned out a brilliant and spectacular fresque of good and bad human choices. Food for thoughts and pleasing vocal and orchestral beauty, all in one.
In the 19th century, Meyerbeer´s opera took Europe by storm and
became one of the most imitated scores in musical history. La Monnaie
entrusted this year's production to Evelino Pidò, who vividly directed Cavalleria rusticana and Pagliacci at the same House last year.
The maestro took his task very seriously, bracing up Sturm und Drang, producing a huge passionate and romantic epic where Good fights Evil and wins it all. Never tiring, the ebullient master conducted his 73 chorists, 93 instrumentalists and the dedicated gallery of fiery soloists to building an utterly moving 5 acts saga.
Although this version was not an on stage production – no creepy settings of hell gates, no choreography for the ballet of ghostly sinful nuns, no Middle Ages fancy attires, no helmets nor swords and tournament horses – the Bozar audience was mesmerised by its quality.
Thoroughly versatile and powerful Evelino Pidò firmly led the artists through the wild tempests of human feelings and the eternally mundane crave for power and possessions. An allegory that spells out war and affliction, a huge stone in our modern garden!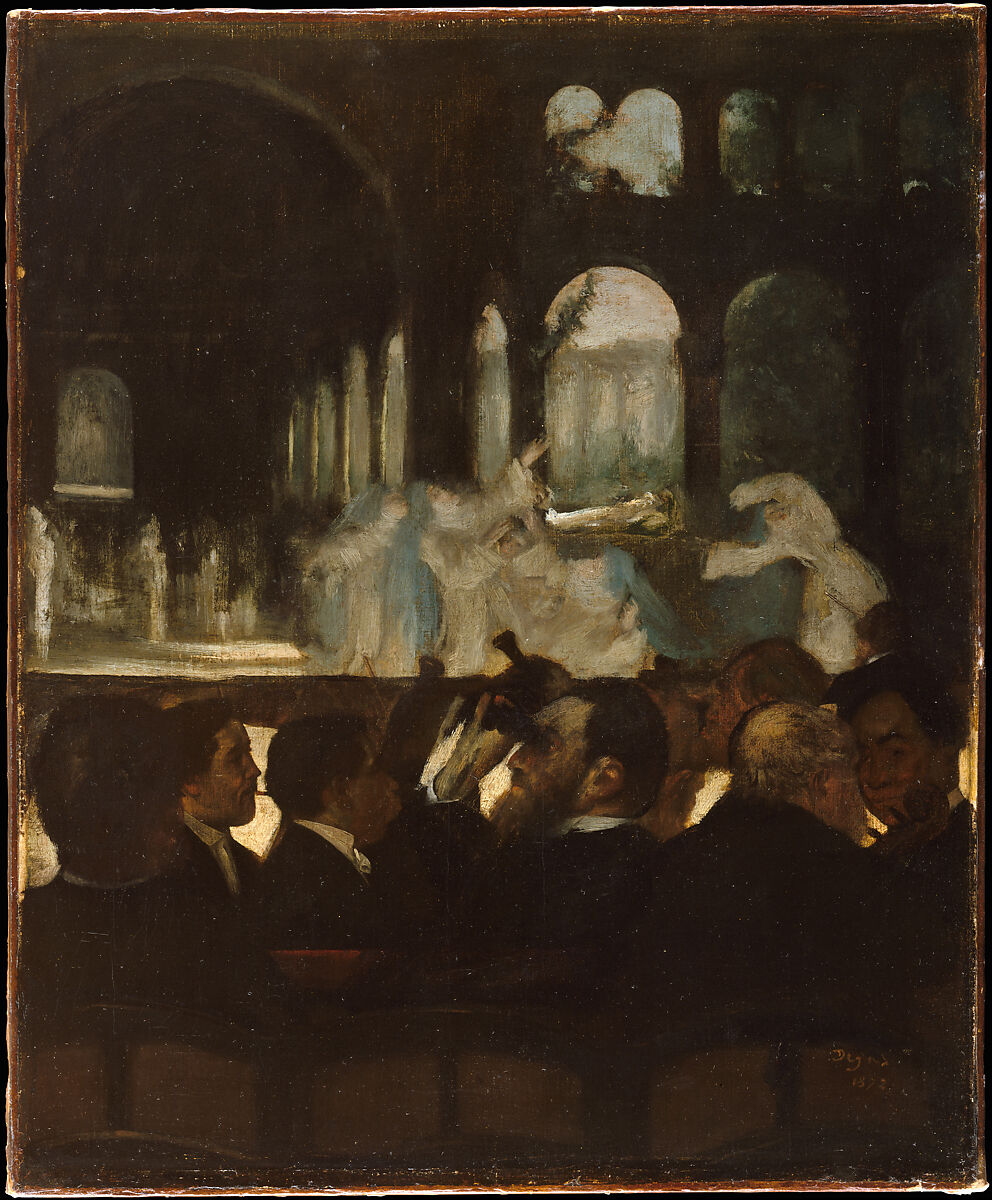 The contrast between the heavy chivalrous music mixed with the festive ambience of drinking songs and the flowery spiritual lines of love and redemption, kept the audience thrilled throughout the experience. The secret must also be the beauty of refined interpretation, especially of both women, Alice and Isabelle ( coloratura soprano Lisette Oropesa, dressed in a stunning bright yellow evening gown with black poppy inprints), who sang passionately, all the way through, reaching the very essence of love and swooping high peaks, up and down the scale. Their genuine vision of Goodness was matched by effortless purity of tone (with exquisite Spanish soprano Yolanda Auyanet as Alice) and her ability to cover the highest and the lowest notes with continuous breath and outstanding voice projection. There were jubilant Italianate belcanto performances and a patient and steadfast argumentation, aimed at dismantling the evildoers' schemes. Both seemed to embody an army of women saints, faithfully engaged in fighting anything that brings us down, sending splendid vibes of light into the darkest 13th century age, …and ours, by the way !
Alice, Robert's virginal foster sister, bravely fought for her brother's lost soul, against his demonic father, Bertram, who had taken the treacherous appearance of a helpful knight. From the very first lines, Alice had seen him through, detecting the Evil he embodied, referring to a painting in their distant Norman village, featuring archangel Michael fighting the dragon, and she fearfully called him « l'Autre». But of course, her brother did not listen. It took the whole opera for him to soften at the name of his beloved mother, who advised him in a last letter to beware of the Devilish Bertram. The latter was embodied by sumptuous French bass Nicolas Courjal : really fascinating in his deceptive tricks and numerous seductive
appeals. His lowest note, striking the terrible French word « mort » was followed by a deadly silence and sent a hair-raising chill through the whole audience.
Astounding Dimitry Korczak, the Russian tenor took up the lead role with as much valiance and resolute spirit he could find but he was ever failing to resist the The Mephistophes spirit. One would imagine him much more in place, in the role of Orpheo and Eurydice. Basically, Robert le Diable is indeed a nasty Norman rascal with Evil genius, exiled in Sicily for numerous mischiefs perpetrated in his home town. But redemption does happen, doesn't it?

There were also less conspicuous characters such as Raimbaut (sung by sophisticated tenor Julien Dran with high definition of line) that were as brilliantly interpreted; also Belgian Pierre Derhet, who stood as the prince of Grenade's juvenile emissary, sung with such a full and vibrant rounded voice.
Last but not least, the work and power of the choir prepared by Martino Faggiani was breathtaking and contributed to make that evening truly unforgettable.
Bozar, 02/05 April 2019
Sur Arts et Lettres pour la version française
https://www.lamonnaie.be/en/program/838-robert-le-diable
Conductor/ EVELINO PIDÒ
Chorus master/ MARTINO FAGGIANI
Musical assistant/ JONATHAN SANTAGADA
ROBERT/ DMITRY KORCHAK
Bertram/ NICOLAS COURJAL
Raimbaut/ JULIEN DRAN
Alberti / Prêtre/ PATRICK BOLLEIRE
Isabelle/ LISETTE OROPESA
Alice/ YOLANDA AUYANET
Héraut / Maître de cérémonie/ PIERRE DERHET (MM Academy Laureate)
Dame d'honneur/ ANNELIES KERSTENS
Chevaliers/ MARC COULON, ALEJANDRO FONTÉ, DAMIEN PARMENTIER, RICHARD MOORE
Joueur/ GERARD LAVALLE
La Monnaie Symphony Orchestra and Chorus
MM Academy led by Benoît Giaux
Production/ DE MUNT / LA MONNAIE
Co-presentation/ BOZAR MUSIC